Overview
Are you finding it increasingly difficult to meet people at bars, work, school, or even anywhere? To make things worse, people are on their smart phones sexting and unaware of others around them. Now what if you could be on the receiving end of that? Fortunately you have the opportunity to make that happen at BookofSex.com(Bookofsex). At Bookofsex, you can meet over 24 million people worldwide to share your erotic fantasies with. Explore the online community that thrives on spicing up your sex life.
Signing Up
The sign up process is easy. You first start you off by identifying what you are looking for. In my case, I was looking for a woman. The other options are man, couple (man and woman), couple (2 women), couple (2 men), group (men and/or women), and TS/TV/TG. Once you make your selection, you then are greeted with another page that contains more information for you to fill out. In addition to asking what your gender and what you are looking for, they request your birthday, country, zip code, email, a username, and then a password. On the second page you have the opportunity to express yourself by entering your race, body type, sexual orientation, marital status, introduction title, and telling others about yourself. An email with a confirmation code will be sent to you as soon as you fill out your information. Enter the code and you are on your way to getting laid.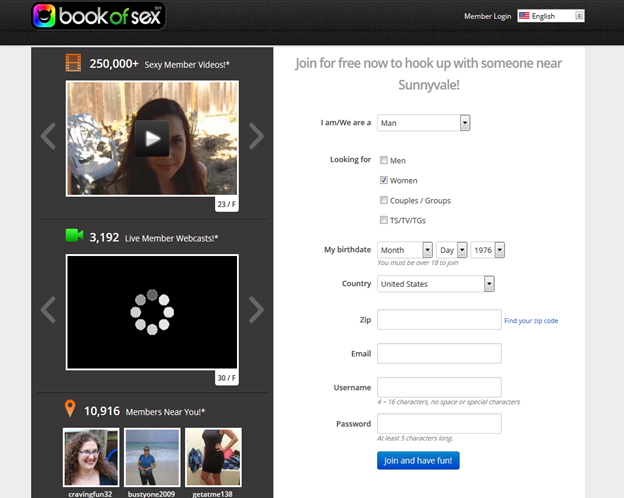 Membership Information
BookofSex.com immediately hit me w/ the membership cost information as soon as I activated my account. I wanted to close the page, but the "You Will Get Laid" guarantee caught my eye. They guarantee that you will get laid within three months if you follow their "simple" rules. I had a feeling it wasn't going to be simple. The first couple of steps were simple. All you had to do was maintain a gold membership for 3 months, log in at least once a month, send at least 3 emails a month, and create one blog or group post each month. There is a catch-22 though. If you don't get laid, then you are supposed to tell customer service you didn't get laid. I see a lot of men reluctant to tell anyone that they were not successful at getting laid because they will most likely feel like a loser. It's such an ingenious plan. In the event you DO tell them that you didn't get laid, then you get another 3 months for free. Keep in mind that's it's a one-time deal.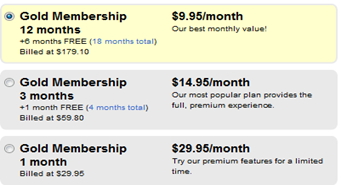 Membership Add-Ons
In addition to the membership cost, there are other add-on features such as sending messages, friend request, viewing your profile, highlighting your profile, and adult movies on demand. Below is a table of the cost of the add-on features.
Standard Contact
12 Months
$8.95/Month
3 Months
$11.95/Month
1 Month
$19.95/Month
Highlight Your Profile
3 Months
$8.95/Month
1 Month
$9.95/Month
Adult Movies on Demand
12 Months
$9.95/Month
3 Months
$12.95/Month
1 Month
$18.95/Month
IMO About Pricing
What starts out at a measly $9.95/month can get expensive depending on what you plan to add. It's like the starting price of a Mercedes C class or a BMW 3 series. The starting price isn't bad until you tack on the options. I say just pick only the things you can't live without. Personally, I think Bookofsex could benefit from a save more when you spend more type of program for these add-ons. I'm confident more people would be inclined to subscribe to more features if a discount was in place. Don't forget to cancel your membership when you are done in the event you choose not to continue or you will be slapped with a bill of unwanted charges.
Payment Options
There are four types of payment methods: credit card, money order, electronic check, and credit card by mail or fax. I think your best bet is to pay through credit card. This way you can report any fraudulent charges in the event that someone gets a hold of your information.
Gold Membership Features
I'm going to tell you now that you should upgrade to gold. It's the best bang for your buck. There's no point in wasting your time. I rather cut to chase then waste your time. For those that are really patient and don't mind wasting time, there is a silver lining. You can still dabble on site through using points.
Adult Movies on Demand
Description
Standard Membership
Gold Membership
Chat on IM & Chatrooms
Yes
Yes
Hotlist Others
Yes
Yes
Like Photos & Videos
Yes
Yes
Join Blogs & Groups
Yes
Yes
Watch Live Member Cams
1 Time
Unlimited Times
Send Messages
No
Yes
Send Flirts
No
Yes
Send Friend Requests
No
Yes
Read Complete Profiles
No
Yes
Watch Hot Videos
No
Yes
View Full Size Photos
No
Yes
Comment on Photos & Videos
No
Yes
Receive Priority Customer Services
No
Yes
Earn Points on the Prowl
You obtain 25 points every time you log in. The max points you can get for logging in is 25 points a day. More points can be attained through referrals, group post, and other miscellaneous ways. Having a friend register gets you a whopping 100 points. An additional 1900 points will be granted if they upgrade. Writing a group post gets you 30 points (300 point max). Making a comment on a group post will get you 10 points (300 point max). Posting a comment anywhere will gain you 2 points (1000 points max). Reading emails with flowers will get you with 25 points. With a great deal of patience, you can go free for a little while until you reach the max points allowed. Instead of wasting your time trying to muster some free points here and there, why not just pay $9.95 a month. At least then you'll have a better chance of getting laid. Below is a list of things you can do with all your points.
Points Activities List
Activities
Points
Upload a Photo
100
Upload a Video
100
Confirm your ID
1000
Create a Blog Post
30
Comment on a Blog Post
10
Add an Article
30
Reply to the Author of the Article
30
Reply to Questions
30
Vote on Replies to Questions
20
Vote on Writer Articles
20
Vote on an Article
20
View Profiles on Demand
100
Email Any Member
200
Receive "Email is Read" Alerts
100
Send Virtual Flowers
50
Prizes to Redeem
Highlight Your Profile for a Month
1000
Silver Membership Upgrade (1 month)
2200
Gold Membership Upgrade (1 month)
4000
Private Chat Room (1 month)
1000
Purchase Bling Icons
Varies
Features
I was shocked that Bookofsex has so many features. I'm going to bet that you will be a bit overwhelmed when you log in. Once you get past the upgrade page, they drop you on the home page where you get to see who's online, new matches, members near you, and VIPs. This is a great feature. It was a great way for me to save time and focus on the members that I could try and get laid with. I ran into a problem not too long into my exploration. Unfortunately when you are searching for members, you are not allowed to filter by race, body type, sexual orientation, and marital status. You have to upgrade to access those features. I got frustrated and decided to just click on the next hot model's profile. Again you had to upgrade, but this time there was new offer of $2.95 for 30 days to view that particular member's profile. It's relatively cheap, however if you stop and think about it for a minute; you'll realize it's really not a good deal after all. Just pay the $29.95 a month and view all 50 million member profiles. If you search around and click on several member profiles you will eventually get an offer of $19.95 for just the first month. It's supposed to be for first-time customer only. With great offers like that, I can see why there are so many members.
Becoming a Top Fan
Another feature you can enjoy as member is becoming a top fan of your favorite member. It's like becoming a twitter follower of your favorite person or celebrity, except it's with members. Some of the benefits of being a top fan is viewing their profile for free (only top 10 fans can do this), contacting them for free (only #1 fan can do this), get notifications with a special badge, and appear on their activity and profile page (more visibility). So before you get a carried away just be aware that becoming a fan isn't cheap. It's based on a points system that you can bid on to become the members' fan. The member's page will list the top 10 fans along w/ their bids. The top 3 fans get their profile shown. Obviously you will have to bid more to be in the top 10 fans for the hot members. Things can get a little out of hand in terms of money here. I suggest going with the decent looking members. This way you can become a top fan of more than one member without having to spend an arm and a leg.

Buying Points Too
As you can already tell, this can get expensive real quick. However, there are other things you can do within the community without spending money. I listed the pricing scheme if you wanted to buy points. A great portion of my time was devoted to the member activity and current contest section.
Cost of Points
5000 points
$40
4000 points
$34
3000 points
$27
2000 points
$19
1000 points
$10
Member Activity Section
In the member's activity section, there are tons of pictures and videos that can go on forever. All you have to do is click on the view more button and older postings will appear. The format is similar to Facebook except Book of Sex is more interesting and graphic. Essentially there is someone in the world having sex or getting naked every second of the day. You can make comments or like the pictures and videos. A lot of new jargon can be picked up from the comments section. Overall, I have no real complaints about the postings and comments, except for the part where I have to manually refresh the page for new postings.
Contest Feature
A great deal of time was also spent in the contest section. Their contest ideas seem very entertaining. The contest that was going on at the time was called "Sexy Costume Contest". Essentially members show off their sexy costumes and sexy assets. It's no surprise that a majority of the contestants dressed up as sexy nurses and school girls. I was hoping to see something more original but it's hard to express criticism when they are partially naked. After further exploration, I had discovered that there were archived contest. In addition you can also be a part of the contest. All you have to do is pick your costume, take some pictures, and upload them. If you win first place then you get a year's worth of gold membership. Coming in second awards you a 6 month gold membership and third place gets you 3 months gold membership. The remaining contestants up to the top 32 finalist will receive a month of gold membership for free. If you want to see past contests, then you will have fork up some money.

Sex Academy Feature
The Sex Academy is a great feature too. I was curious of what type of courses were offered. I read and watched the video on "Erotic Massage for Couples" because it was free. After you read the material and watch the erotic videos, you then have to take a quiz in order to get certified for that particular class. The content is very detailed and helpful. The pictures and videos were quite tasteful. It's something you can boast about to your next person of interest.

Hot Members
Another area of interest was the "what's hot" section. The hottest photos, videos, albums, member, top fans, and adult movies can be found here. Hot is subjective so don't expect a bunch of tens. From reviewing the different profiles it seems like the hottest members are the ones that get the most likes. I spent a lot of time looking around. Fortunately, you are able to search for members by race. I appreciated this very much. As a free member you have the ability to like and comment on their profile page. Sadly that is the extent of your interaction w/ them. Anything further requires you to pay.
Not So Swinger Prone?
After a few days of commenting on member profiles, I had received quite a few emails. I was hoping that at least one of them came from a hot member. To my dismay the emails were from swinger couples wanting to hang out. I'm open to the idea as long I do not have to see another naked man. I guess I could become a paying member or if I really wanted to meet swingers I could hang out in the groups' area and read some of the postings from local swingers of where to meet. Maybe I need to spend a little more time of my profile to get other members interested. I'm sure a photo exposing a little more skin here and there couldn't hurt either.
Nice Bargain
Whether you hook up with someone or not is really up to you and your efforts. However, it's nice to know that there is an insurance policy just in case you don't get any action in the first three months. You get an additional three months more if you do not meet your goal to get laid. Who knows, you might be too busy doing things like partaking in contest, looking up hot members, flirting with people from all over the world, becoming a fan, broadcasting yourself, and watching adult movies on demand to mention a few. All that just cost $10 a month. However, after you log into your free account several times, the monthly fee reduces to $4.95. I'm not sure of the exact amount of time that passed but I did notice the discount a week after I continued logging into the free account. Five dollars is a hell of a deal. Nowadays you can't buy anything for five dollars. Even texting cost more than five dollars.
The Bottom Line
I can safely say that I would consider becoming a gold member on this site. If you are one of those gregarious individuals that spend countless hours on posting, commenting, and following others, then this site is for you. It thrives on community appeal. This is the perfect opportunity to immerse yourself into the different communities and culture.